The "Hell of the North" has always held a special appeal for the big Tuscan. Tafi's strong, powerful style is especially suited for the mud, cobbles, wind and harsh conditions that are typically encountered in the Queen of the Classics.

It had always been Andrea's dream to win Paris-Roubaix...In 1999, with a memorable solo win, his dream finally became reality!
"This morning Lefevere (Mapei DS) told me it was my turn and the team did a great job for me. Once again, Mapei showed we were a great team."

After reaching the podium twice before but not yet the top step (3rd in 96, 2nd in 98), Tafi followed his idol Francesco Moser, who also won Paris-Roubaix while wearing the Italian Champion's Jersey in 1980. Tafi noted the fact later: "When I was about the same age as Tommaso (his son) in 1980, I saw Moser win with the Italian colors on his back and I really wanted to do the same this year."

All winners of Paris-Roubaix receive the famous cobble trophy. Andrea keeps his in sight of the dinner table to remind him of his goals. He received another cobble from the race organizers to build into his new villa. It was given as a token of his courageous performances and recognition of his great admiration and respect for the Queen of The Classics.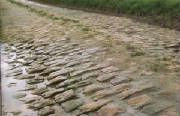 Click on the cobbles to the left to go to the latest version of the Official Paris-Roubaix Website